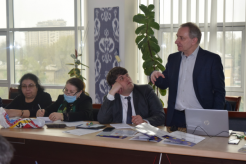 Tajik and EU experts discussed the first results of the prevention programme for adolescents
Twenty-five national partners from Ministry of Education and Sciences, National Centre for Monitoring and Prevention of Drug Use, Narcology Service, Healthy Life Style Centre, Youth Friendly Service, Drug Control Agency, Ministry of Internal Affairs, Tajik National University, Tajik State Medical University, secondary schools in Dushanbe and NGOs discussed the results of the pilot drug prevention programme, which was completed in 5 secondary schools in Dushanbe in September - December 2017.
The participants of the seminar made both qualitative and quantitative evaluation of the programme and in small groups reviewed and modified scenarios of the possible programme for the youth at risk.
They discussed the possible modifications and improvements if the programme or other preventive work with youth at risk continues in the future.
In Tajikistan, 5 schools in Dushanbe were involved and 43 adolescents were covered by the Indicative Prevention Programme based on the motivational interviewing.
This programme relates to the indicative drug prevention. Earlier, in 2016 the universal drug prevention programme was successfully tested in Tajikistan with participation of about 13000 parents, 513 teachers, 36 instructors and 2 national trainers who were trained in school-based drug prevention programme. 36 schools participated in pilot prevention campaigns in 6 localities.
CADAP 6 represents continuity of the EU policy and long-term engagement with Central Asian partners to help further strengthen their national strategies in drug and drug demand reduction policies. The programme is funded by the European Union and implemented by the Consortium from the Netherlands, Czech Republic, Poland and Germany, led by the Deutsche Gesellschaft für Internationale Zusammenarbeit (GIZ) GmbH.
For more information, please contact: Ms. Mavjigul Azizulloeva, CADAP 6 National Coordinator, by phone (+992) 98 584 32 70, or e-mail: mavjigul.azizulloeva@giz.de