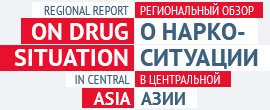 In order to achieve this objective, expected results and outputs, a close cooperation with component 1 (National Drug Strategies) is foreseen. Component 2 will build on the achievements of previous CADAP phases, in particular CADAP 5, in which component DAMOS outlined important recommendations for future activities. The main emphasis will be on tailor-made programs for each country (as each of them achieved a different level of development in the Drug Information Systems (DIS) and on the strengthening of regional cooperation.
The key expected results achieved by the activities listed under the individual work packages above then include:
 National Focal Points set up and/or strengthened by further structuring and equipping;
 Improved Annual Drug Reports coherent with EMCDDA guidelines;
 A multi-annual programme on the objectives and tasks of the NFP (National Action Plan on Drug Information System - NAPDIS) developed in each country and connected by competent national political authorities to the budget line;
 Network of regional co-operation with other National Focal Points in CA functioning;
 Drug information systems with corresponding networks established in each country;
 A coordination body on drug information system (NFP) established and operational;
 Plan for implementation of EMCDDA key indicators based on EMCDDA's standards developed;
 Knowledge of data analysis and interpretation methodology improved
 Early Warning System for new psychoactive substances established.
Component 2 – Work Package I: Capacity building and enhancement
The focus of this "basic ground" work package will be on the improvement of the national capacity to build, maintain and further develop the drug information network in accordance with the model EU methodology. For each of the five countries, EU Short Term Experts (STE) will apply a specific approach reflecting its situation. The STEs will act as "coaches" – i.e. highly skilled epidemiologists/social scientists experienced in the DIS building and enhancing, who will use their thorough knowledge of the national situation for planning appropriate training programs in data collection, analysis and reporting provided to national key experts and data providers.
In addition, the component will provide more general trainings, aiming to enhance national capacities in general managerial, presentation and publishing skills. Subject to the budget constraints, the component also plans to provide some seed resources for establishing a programme of internal education that would include improvement of technical language skills in order to enable participation in the following work package.
Activities within WP I:
a) Implementation of comprehensive training programmes for the key data providers in data collection, data analysis and reporting, that build on achievements of CADAP 5: regional and national seminars/workshops
b) Increasing cooperation and communication between NFPs and policy makers by means of public presentations, media presence (where appropriate and agreed with the institutions/ governments) etc.
Component 2 - Work package II: Regional and international cooperation
The work package will focus on introduction of core national DIS experts into the existing international networks that are relevant for the scope of the component, on establishment and institutionalisation of regional networks of experts in the field, particularly (but not exclusively) the networks of heads of the national NDO Core Groups – the future heads of the National Focal Points.
Activities within WP II:
a) Up to 6-8 internships in EMCDDA (2-3 per year)
b) Participation of selected experts at selected EMCDDA annual expert meetings (up to 2 per country, in second and third year respectively)
c) Writing of two scientific papers on regional situation (within the project duration)
d) Regional report on drug situation written (at least two)
Component 2 - Work package III: Targeted studies (related to key indicators)
In the framework of this work package, the component will conduct targeted scientific studies that were identified in the previous phase of CADAP as of national priority; in the same time, each of those studies will be clearly and directly linked to one (or more) of the EMCDDA key indicators of drug epidemiology. Most of the countries preliminarily opted for school studies and some of them expressed their wish to access the ESPAD (European School Project on Alcohol and other Drugs) family/system. The estimates of the extent of problem/injecting drug users were seen as second priority by most countries, followed by the concern of viral hepatitis C in people who inject drugs (PWID). Research of other drug-related co-morbidity, e.g. psychiatric co-morbidity, can be also a subject of the component support providing there is an interest and support of national structures. A continuation and further improvement in the system of estimating overall mortality of drug users is foreseen within this component. The component is eager to perform the fatal overdoses pilot study (in a specific region) in at least one country, provided that the national authorities approve it.
Activities within WP III:
a) Piloting of ESPAD in selected regions and, where the interest of the governments exists, the implementation of ESPAD study in 2015
b) PDU studies
c) VHC studies in specific populations
d) Analysis of overall mortality of drug users
e) Fatal overdoses by illegal drugs
f) Supply reduction indicators: prices and purities a focus
g) TDI data collection system (together with Component 4 - Treatment)
Component 2 - Work package IV: Institutionalisation
Enhancement of the institutionalisation is a specific work stream that aims to strengthen the position of the body coordinating the national Drug Information System – the National Focal Point / National Drug Observatory. It will focus on national formal documents (i.e. laws or by-law norms) that define the position, responsibilities, competencies, role, staffing, and budgetary arrangements of the National Drug Observatory (NDO) within the national system. Together with component 1, the component 2 proposes to actively lobby for the nominal inclusion of the NDO and its role in the drug strategy documents as well as for the use of the evidence DIS produces for the drug policy making process.
Activities within WP IV:
a) Elaboration and adoption of National Action Plans on Drug Information System (NAPDIS)
b) Carrying out an assessment on the information sources and resources in order to map the flow of drug-related data (Data information maps)
c) Setting up and/or continuation of operation of NFPs and support to the establishment of network(s) within the Drug information system
d) Procuring and installation of equipment for the NFPs and data providers in all active countries: Tajikistan (50%), Kyrgyzstan (50%) Regional EWS on new trends and substances
e) Advisory and lobbying in relation to policy makers (together with the Project Coordinator and Component 1)
f) Study visit for policy makers aiming to meet EU counterparts and the EMCDDA management (together with Component 1)
g) Coordination of efforts by regularly liaising with other key international organisations active in the field and in the region (UN, CARHAP, PEPFAR, OSI, etc.)
h) Synchronisation of these efforts with other CADAP components in order to introduce evaluation culture in the drugs field
Component 2 - Work package V: Turkmenistan
Given the experience with Turkmenistan in CADAP 5, in which Turkmenistan participated in the DAMOS component only in the last 6 months of the programme, the country lacks the pre-trained group of national experts who would benefit most from the advanced trainings and other activities planned for the other four CADAP countries. However, three workshops were provided within CADAP 5 to a group of experts that would enable to the group form a NDO Core group in the future.
Thus, the component intends to implement the same learning-by doing approach for the Drug Information System (DIS) in Turkmenistan that did prove its effectiveness in the other four countries in CADAP 5 in order to close the gap.
Activities within WP V:
a) Signing of Memorandum of Understanding with the National Agency for Protection of Health and Wellbeing (former State Drug Control Agency in Turkmenistan) on establishment of the experts' NDO Core Group and its work programme, modus operandi, and other practical aspects
b) Introductory set of trainings on key indicators and tools for monitoring
c) Drafting the first country situation summary on drugs
d) Publishing the first country situation summary on drugs at the CADAP, EMCDDA and national websites (in Turkmen, Russian and English)
e) (Collation of Drug Information Map – to be discussed with the beneficiaries)
f) Drafting the National Action Plan on Drug Information System
g) Drafting the first Annual Report on drug situation in Turkmenistan
h) Publishing the first Annual Report on drug situation in Turkmenistan